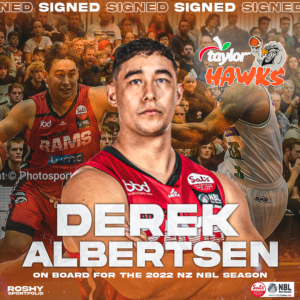 "Albertsen ready to soar with Hawks."
Versatile guard Derek Albertsen will bring his talents and leadership to the Taylor Hawks in 2022 and will re-unite with coach, and several team mates after playing last year for the Rams. "DA" as he is known throughout the NBL, is a popular, hard-working, sharp shooting guard who will add depth to the Hawks back court this season.
The 27 year old dipped his toes in the water a decade ago as a teenager training with the Airs, then Nuggets before playing a few seasons back in home town Taranaki. DA then relocated to Christchurch to concentrate on a flourishing personal training career, while continuing to play in the strong Canterbury club scene. Strong performances in the 3×3 format also sees him highly ranked on the national stage. A return to the NBL was halted due to Covid in 2020 but Albertsen returned in 2021 for the Rams and played a key role off the bench, with great impact leading the reserve squad. It this leadership, mixed with a hard-work, talent and a great understanding of the game which was a big part of the recruitment process for the Hawks coach.
"Derek is one of those guys that your just happy to go in to battle with. He brings an infectious energy, is a great motivator and leader for all players, and in the community with our rangatahi. He has a great understanding of the game and plays like a coach on the floor."
Albersten shares his passion for wanting to come to Bay by stating "I'm super excited for this opportunity to come to this successful franchise and have my input in the team. To be playing alongside old team mates and friends while also playing for Mick again, let's get to work."
~ Ends ~