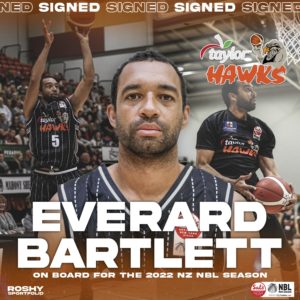 "Hawks legend laces them up again."
Season seventeen as a professional athlete, a decade long career with the national team, a member of the Hawks 2006 championship team, are a just a few achievements in a long, long list of the Taylor Hawks legend Everard Bartlett.
The ultimate team mate, competitor, a kaiārahi to the younger players, and don't forget a lights out shooter. The cagey veteran will return to the hardwood in 2022 desperate to help the team returning to championship glory after a nail biting 2021 campaign that was oh so close. It's fair to say the miles covered as a professional player far outweigh the miles remaining but there is definitely fuel in the tank and a burning desire to help lead Bay Hawks to success this season. Everard shares his thoughts on the why's and how's he can continue to help the Taylor Hawks as he enters into his fourteenth season with the club.
"It's simple, I want to be a part of bringing a championship back to the Bay and seeing it hang alongside the 2006 one. At my age and with this team, being able to play a role that can help us be successful is a big motivation. I couldn't do this without the support of my coaches and team mates but most importantly my whānau. My wife is our families rock and her support is the biggest reason I can continue to do what I love, without her this isn't possible."
National Basketball League (NBL)
| Season | Team | PTS | AST | STL | BLK | FGM | FGA | FG% | 3PM | 3PA | 3P% | FTM | FTA | FT% | OFF | DEF | TO | PF | G | GS | RPG | APG | SPG | BPG | PPG | EFF |
| --- | --- | --- | --- | --- | --- | --- | --- | --- | --- | --- | --- | --- | --- | --- | --- | --- | --- | --- | --- | --- | --- | --- | --- | --- | --- | --- |
| 2018 | Hawks | 156 | 30 | 14 | 2 | 53 | 118 | .449 | 41 | 90 | .456 | 9 | 10 | .90 | 6 | 17 | 23 | 20 | 180 | 1 | 1.28 | 1.67 | .72 | .11 | 8.67 | 0 |
| 2019 | Hawks | 127 | 18 | 13 | 1 | 42 | 101 | .416 | 33 | 81 | .407 | 10 | 14 | .714 | 2 | 25 | 27 | 21 | 20 | 1 | 1.35 | .90 | .70 | .05 | 6.35 | 0 |
| 2020 | Bulls | 150 | 38 | 19 | 1 | 46 | 109 | .422 | 39 | 89 | .438 | 19 | 24 | .792 | 3 | 33 | 36 | 15 | 15 | 15 | .20 | 2.53 | 1.27 | 0.07 | 10.01 | 0 |
| 2021 | Hawks | 58 | 24 | 4 | 1 | 21 | 56 | .375 | 15 | 44 | .341 | 1 | 2 | .50 | 2 | 15 | 17 | 11 | 12 | 3 | 1.42 | 2.0 | 0.33 | 0.0 | 4.83 | 0 |
| 2022 | Hawks | 0 | 0 | 0 | 0 | 0 | 0 | 0 | 0 | 0 | 0 | 0 | 0 | 0 | 0 | 0 | 0 | 0 | 0 | 0 | 0 | 0 | 0 | 0 | 0 | 0 |