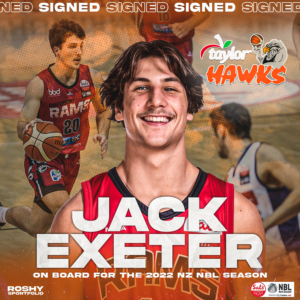 Jack Exeter – Video Highlights
2022 shows great promise for the South Island talent who has headed north to the Bay and joined the Taylor Hawks for this season. A quick, physical and explosive combo guard, Exeter is an in your face defender, exciting transition player who us a threat at the rim, mid range and from the land of plenty. It is however the defensive end that he shines when being given the assignment on talented opposition players.
Jack played his school basketball at Rangiora High School leading the Senior team to a Thomson Trophy Final birth in 2018.  He was also apart of the Mainland Eagles Touring team to Australia in early 2019, where he played against the NBA Global Academy Team and the Brisbane Bullets Academy team.
After graduating high school, Exeter attended the University of Canterbury and played for the Canterbury Rams. He was an important piece for 2020 Sal's NBL Showdown for the Rams.
Head Coach Mick Downer commented on Jack saying "Jack is a star on the rise. His commitment and professionalism towards getting better and working on his game mentally, athletically and his basketball skill package is first class. He showed his potential the past few seasons in limited playing time being behind imports and Tall Black players but 2022 is a season that could promise a spark for his career."