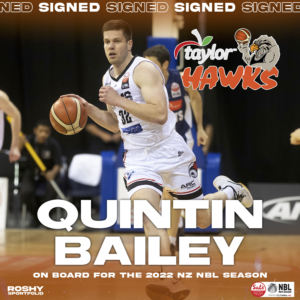 #

32

Name

Quintin Bailey

Nationality

New Zealand

Position

Forward-Center

Height

201

Weight

97

Current Team

Hawks

Past Teams

Rams, Airs

Leagues

National Basketball League (NBL)

Seasons

2015, 2016, 2019, 2020, 2021, 2022
Bailey, from Stratford, Taranaki has played the past two seasons with the Canterbury Rams after completing a successful collegiate career. First starting at highly regarded Californian Junior College Citrus, before finishing his college career as a key starter for NAIA powerhouse, John Brown Golden Eagles. Going 28-5 in his senior year.
Known as a hard-working, tough, and great culture guy the versatile forward / post shares his reasons for joining the Taylor Hawks for this season.
"I'm stoked to sign with the Taylor Hawks for the upcoming NZNBL season and I'm looking forward to getting to work with Mick and fellas. I felt the Hawks provided a great environment for me to further grow as a player both on and off the court; ultimately, helping me to get one step closer to my potential. Can't wait to get started!"
National Basketball League (NBL)
| Season | Team | PTS | AST | STL | BLK | FGM | FGA | FG% | 3PM | 3PA | 3P% | FTM | FTA | FT% | OFF | DEF | TO | PF | G | GS | RPG | APG | SPG | BPG | PPG | EFF |
| --- | --- | --- | --- | --- | --- | --- | --- | --- | --- | --- | --- | --- | --- | --- | --- | --- | --- | --- | --- | --- | --- | --- | --- | --- | --- | --- |
| 2019 | Airs | 0 | 0 | 0 | 0 | 0 | 0 | 0 | 0 | 0 | 0 | 0 | 0 | 0 | 0 | 0 | 0 | 0 | 0 | 0 | 0 | 0 | 0 | 0 | 0 | 0 |
| 2020 | Rams | 142 | 19 | 15 | 6 | 61 | 114 | .535 | 11 | 24 | .458 | 9 | 11 | .818 | 18 | 58 | 76 | 36 | 14 | 11 | 5.43 | 1.36 | 1.07 | .430 | 10.14 | 0 |
| 2021 | Rams | 157 | 19 | 9 | 4 | 66 | 135 | .489 | 9 | 32 | .281 | 16 | 30 | .533 | 30 | 34 | 64 | 40 | 18 | 15 | 3.56 | 1.06 | .50 | .22 | 8.72 | 0 |
| 2022 | Hawks | 0 | 0 | 0 | 0 | 0 | 0 | 0 | 0 | 0 | 0 | 0 | 0 | 0 | 0 | 0 | 0 | 0 | 0 | 0 | 0 | 0 | 0 | 0 | 0 | 0 |