Century old local business leads booming sport into the future."
A cold call from Bay Hawks basketball Chair Keith Price six years ago to Taylor Corporation Director Kelvin Taylor has led to one of sports more unique, but extremely strong bonds that continues to see the clubs performance grow, both on and off the court.
Article by Hawkes Bay Today Journalist Doug Laing has been published today. https://www.nzherald.co.nz/hawkes-bay-today/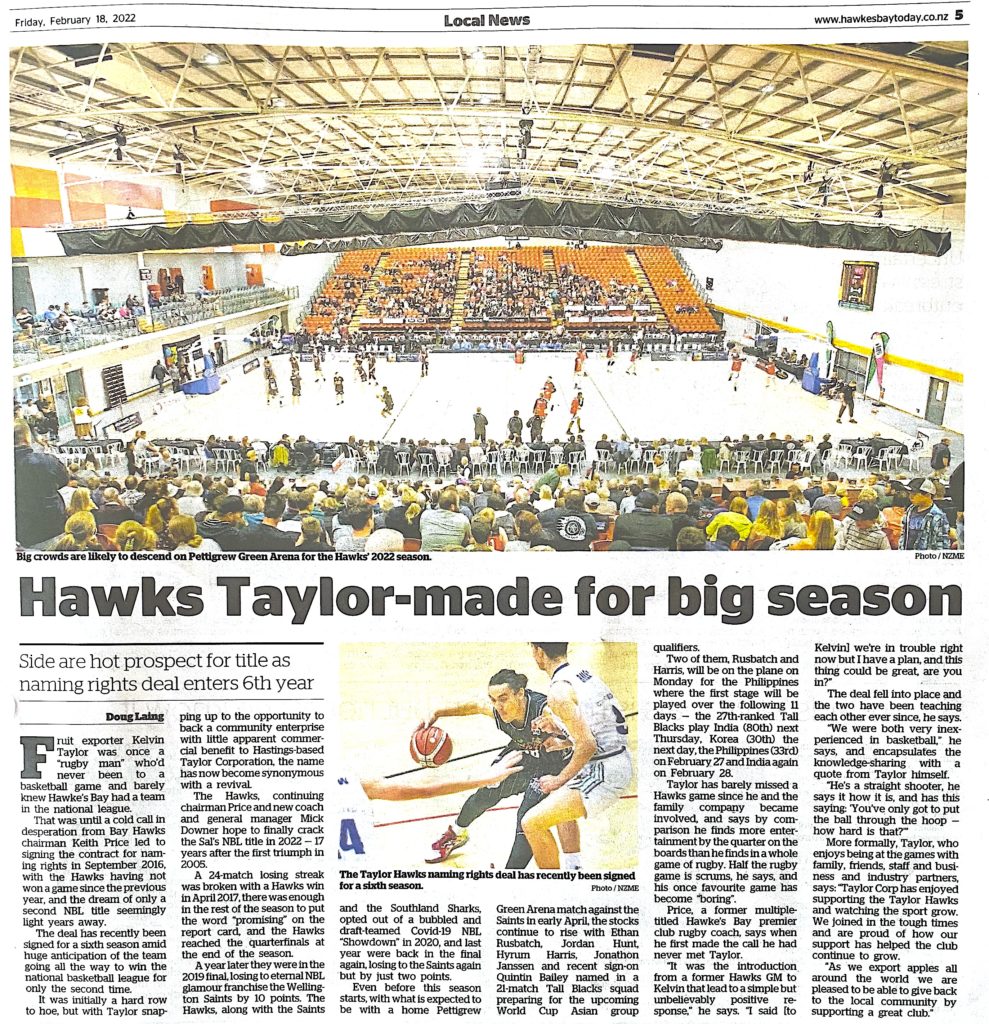 Price elaborates further on what un-folded six years ago when he made the SOS call to Taylor during what was then some dark times for the club, "it was introduction from a former Hawks GM to Kelvin that lead to a simple but unbelievably positive response. I said (to Kelvin) we're in trouble right now but I have a plan, and this thing could be great, are you in?"
In response to the call to arms, the award winning Apple exporting business has continued to support the basketball club with their philanthropic and family first philosophy. Taylor comments on the reasons why his family continues their journey with the Hawks. "Taylor Corp has enjoyed supporting the Taylor Hawks and watching the sport grow. We joined in the tough times and are proud of how our support has helped the club continue to grow. As we export apples all around the world we are pleased to be able to give back to the local community by supporting a great club."
The Taylor Hawks naming rights partnership in the Sal's National Basketball League is rivalled by others as one of the most stable and strong connections. The merging of an industry leading, innovative, and forward thinking local business, with a growing club who continues to improve on court results and off court capabilities is one that sees a great outlook for the future. With stability and great support, championship success in the country's most booming sport is in the eyes of the Taylor Hawks.