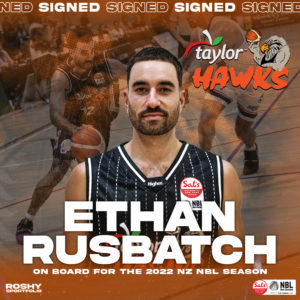 Ethan Rusbatch (born 24 May 1992) is a former captain of the New Zealand under 18 team, Rusbatch began his NZNBL career in 2012 with the Southland Sharks after spending one season in the United States playing college basketball for Lincoln Trail College. As a junior, he represented Canterbury in all age groups, winning national titles in 2009 and 2011. He spent four seasons playing for the Canterbury Rams between 2014 and 2017, before joining the Hawke's Bay Hawks in 2018.
Taylor Hawks career – (2018–present)
2021 season
Rusbatch was set to re-join the Hawks in 2020 but the team did not enter the modified, COVID-affected season. In February 2021, Rusbatch recommitted to the Hawks for the 2021 season. On 20 May, he scored a game-high 33 points in a 90–87 win over the Taranaki Mountainairs. In 19 games, he averaged 16.8 points, 4.2 rebounds, 1.6 assists and 1.1 steals per game.
2019 season
In October 2018, Rusbatch re-signed with the Hawks for the 2019 season. On 13 April 2019, he scored a career-high 34 points in a 98–86 win over the Rangers. He was subsequently named Player of the Week for round one. On 21 April, he scored 33 points in a 105–95 win over the Southern Huskies. Rusbatch impressed over the first four games of the season, leading the league in scoring at 26.5 points per game and hitting 22-of-38 from 3-point range—11 more than the next best. On 25 May, he scored 35 points in a 117–107 win over the Rangers. The Hawks finished the regular season in second place with a 14–4 record. In the Hawks' semi-final against the Rams, Rusbatch scored 20 points in a 74–68 win. In the grand final, Rusbatch scored 18 points in a 78–68 loss to the Saints. For the season, Rusbatch was named the NBL's Most Improved Player. In 19 games, he averaged 20.3 points, 5.0 rebounds and 2.2 assists per game.
2018 season
On 18 January 2018, Rusbatch signed with the Hawke's Bay Hawks for the 2018 NBL season. On 1 June, he had a season-best game with 22 points and nine assists in a 91–76 win over the Rams in Christchurch. He subsequently earned Player of the Week honours for round six. On 7 July, he scored a season-high 23 points in a 113–86 win over the Super City Rangers. On 27 July, he had a second 23-point effort in an 85–76 win over the Rams. The Hawks finished the regular season in fourth place with a 12–6 record before losing 99–73 to the Wellington Saints in the semi-finals. Rusbatch appeared in all 19 games for the Hawks in 2018, averaging 13.5 points, 4.5 rebounds and 1.9 assists per game.
National Basketball League (NBL)